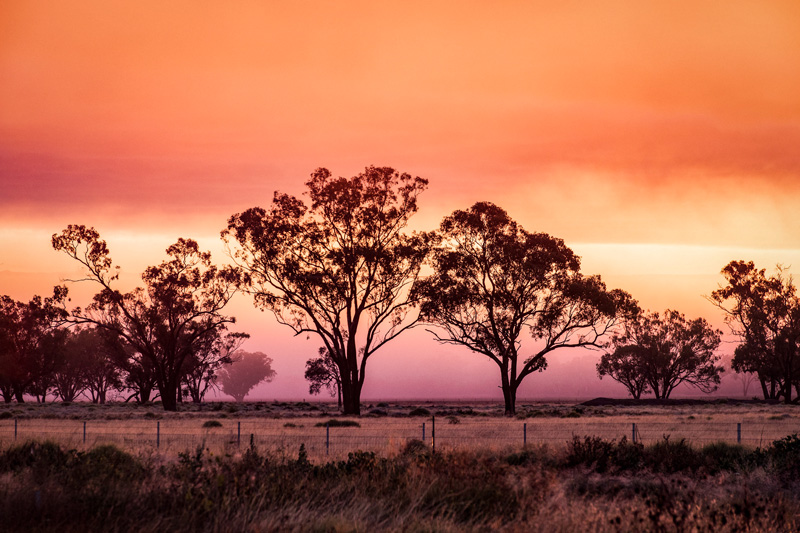 The region lies across a range of landscapes, from the Warrumbungle Mountains in the east, the northern slopes and plains, supporting the vast forest of the Pilliga, across to the Macquarie Marshes in the west. Grab your binoculars, field guides and camera to appreciate and capture all that you encounter.
Macquarie Marshes
The picturesque Macquarie Marshes (Bird Viewing Platform site) are located on Gibson Way, approximately 73km west of Coonamble near Quambone. The National Parks and Wildlife Service Nature Reserve (northern site entry) is located on Warren/Carinda Road.
The Marshes are located on unsealed roads which are closed during wet weather. It is highly advised that you contact the Coonamble Visitor Information and Exhibition Centre to check the road conditions before you plan your trip.
The Pilliga
The grand Pilliga Forest (or Pilliga Scrub) is made up of the rugged Pilliga Nature Reserve, Timmallallie National Park, Pilliga West and Pilliga East State Conservation Areas.
Close to the town of Baradine (70km east of Coonamble), Pilliga is a vast natural forest spanning more than half a million hectares. Call in to the Pilliga Forest Discovery Centre for detailed information on tours, bookings and current road conditions.
Among the highlights of the Pilliga are the Sculptures in the Scrub and Salt Caves. If time permits take a guided discovery tour of the Sandstone Caves.
For detailed information, visit:
Pilliga Forest Discovery Centre
50-58 Wellington Street, Baradine
(02) 6843 4011
Open 7 days, 9am-4pm (closed Christmas Day)
Warrumbungle National Park
The captivating Warrumbungle National Park is 70km south-east of Coonamble and can be accessed via Tooraweenah Road, which is partly unsealed, so please check current road conditions with the staff at the Coonamble Visitor Information and Exhibition Centre before heading out.
Warrumbungle is a Gamilaroi word meaning 'crooked mountain'. The volcanic formations are an iconic feature in the park, with The Breadknife, a volcanic dyke, standing 90m tall.
Enjoy a stroll on one of the walking trails and visit the nearby Siding Springs Observatory, or take your own telescope for a spectacular view of the Milky Way.
For detailed information, visit:
Warrumbungle National Park Visitor Information Centre
Off John Renshaw Parkway within the Warrumbungle National Park
(02) 6825 4364
Open 7 days, 9am-4pm (Closed 12pm-1pm daily and Christmas Day).