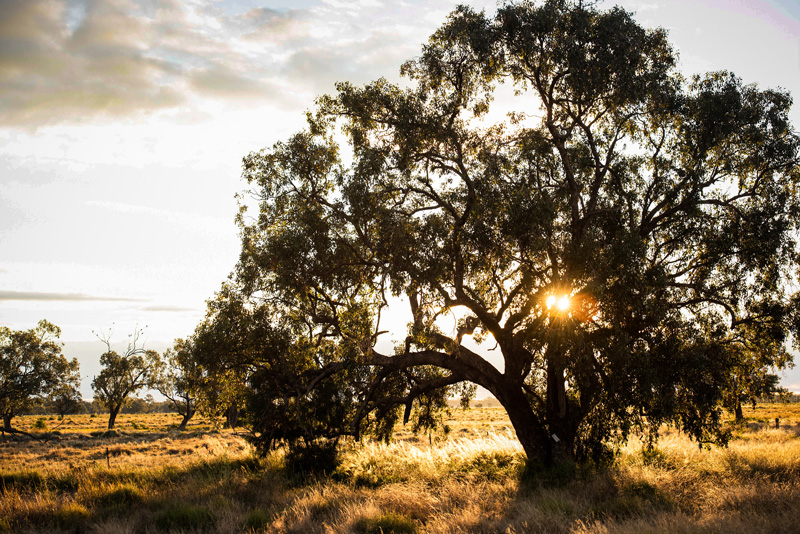 Our region is home to extensive rural properties whose produce feeds Australia and the world. The town of Coonamble, and the villages of Gulargambone and Quambone punctuate the landscape.
COONAMBLE
Coonamble is the central hub of our region, set on the banks of the Castlereagh River. With a population of 2,750, Coonamble is full of character and a must-see destination for visitors seeking to experience genuine country life.
Uncover lively cafés dotted around town, fantastic eateries, boutique shopping experiences and a variety of accommodation options.
Immerse yourself in some of our town's rich heritage at the Coonamble Visitor Information and Exhibition Centre or the Museum Under the Bridge – a former colonial police station. Our friendly volunteers always encourage people to pop in and enjoy a chat about the town's settlement and history.
Why not wander our beautiful Riverwalk, join in some bird-watching or discover artworks by local, regional, and indigenous artists at the Outback Arts Gallery. Stroll the local streets and be amused by our Nickname 'Hall of Fame' billboards that feature caricatures and descriptions of local identities.
GULARGAMBONE
Gulargambone is located 47kms south of Coonamble. Meaning 'watering hole for many galahs' in the local Aboriginal language, you know you are getting close when you spot the famous corrugated iron galah artwork that act as welcoming signposts into town.
Despite being small, this town is bursting with personality. "Gular", as the locals call it, boasts a spectacular street art scene, with vivid murals rivalling any Melbourne backstreet. Collect a Street Art Map so you don't miss any of the key artworks from local and other renowned artists, community members, local organisations and school children.
A good place to start your exploration of Gulargambone is at Café 2828—a vibrant and award-winning, community-run café. Created by community volunteers to help stimulate the town's economy, it now boasts a café, gallery, craft and produce market, function centre, second-hand book shop and plenty of information for visitors.
QUAMBONE
Quambone is the smallest and quaintest of our region's villages, with a proud population of 166 people who love where they live and are very eager to show it off.
Depending on your sense of adventure, Quambone is 57km on a sealed road via Coonamble, or for the more intrepid traveller, 83km on an unsealed road via Gulargambone.
Quambone is the gateway to the Macquarie Marshes, an extensive area of common reed, cumbungi, river redgum woodlands, coolibah woodlands and water couch grasslands. Covering over 200,000 hectares, the Marshes are recognised as a significant Australian colonial waterbird nesting area and are listed under the Ramsar Convention as a Wetland of International Importance.
The local watering hole and general store are must-visit places for any traveller to Quambone. Here you'll find local characters, who'll give you a glimpse of our unique personalities, directions to the Macquarie Marshes Bird Viewing Platform, and probably a good yarn, too.