Please complete our survey
Libraries in the Coonamble Local Government Area are part of a larger library network—known as the North Western Library—involving libraries in Bogan, Coonamble, Gilgandra and Warren Shires.
A survey is taken by the North Western Library to record community members' preferences, expectations and experiences from their local library.
The survey is open for responses until mid-October. Please access it here. It will take about five minutes to answer the 10 questions asked.
1000 books before school literacy program
Register for 1000 Books before school and join our early literacy program! It's free and easy to use – simply register with your local North Western Library branch and start reading! Log your read books via the Beanstack app or website, receive incentive prizes along the way, and help build your child's literacy skills for a great start to school. So, what are you waiting for?.... register today!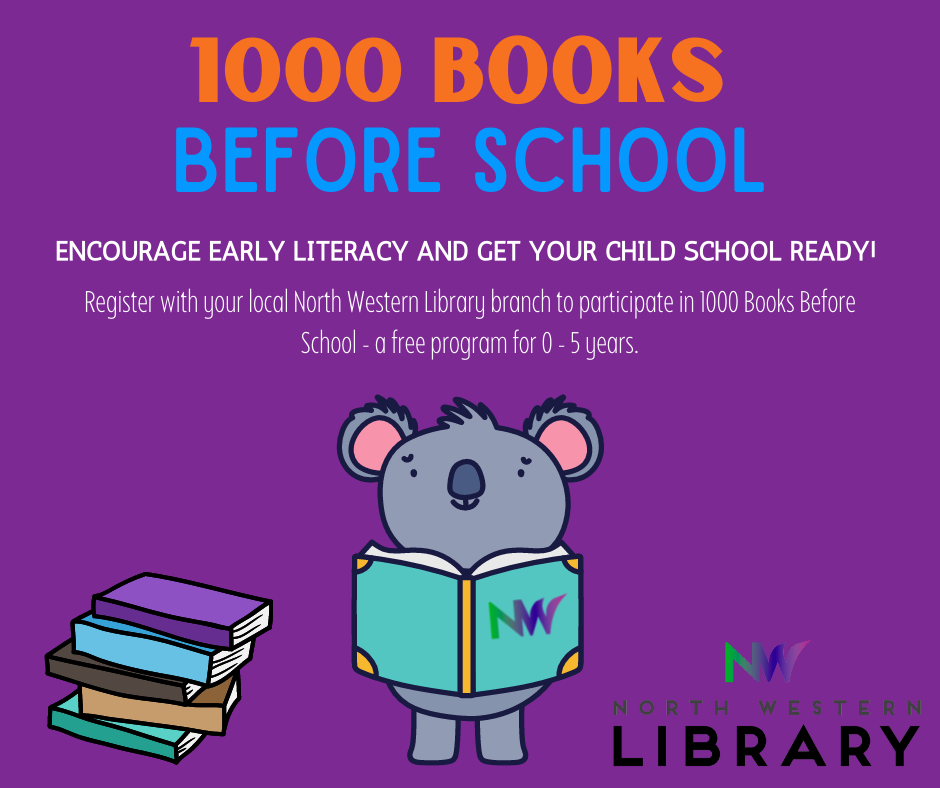 Our three libraries
Council operates three libraries in the Local Government Area:
Coonamble Shire Library

Coonamble Shire Library is open:

Monday to Friday from 10:30am to 5pm (closed between 12:30pm to 1:30pm).
Saturday from 10am to 1pm

Coonamble Shire Library offers a large selection of media:

Books – Fiction and Non-Fiction
Magazines
Audiobooks

The library also offers:

Internet Access
Computer Services
Printing and Photocopying
Television
Study Room
Meeting Room
Free Wireless Internet Hotspot – Please ask a librarian for a voucher number.

Other services provided include:

Visiting librarian to the local preschool for story time.
Book deliveries are available to the housebound and are carried out fortnightly.

Contact Information for Coonamble Shire Library:
Address: 80 Castlereagh Street, Coonamble NSW 2829
Phone: (02) 6827 1925
Email: coonamble.library@coonambleshire.nsw.gov.au
Facebook: www.facebook.com/CoonambleShireLibrary

Coonamble Shire Library is part of the North Western Library, based in the north west of the State, involving Bogan, Gilgandra, Coonamble and Warren Councils.

Now available through the North Western Library site is the mobile phone app, Borrow Box, that allows library members to download talking books.

Borrow Box is free to library members – just collect your password from the library and use it to download the talking books, which are then available for two weeks.

To access the current catalogue, Borrow Box and other information, visit the North Western Library website here.

Quambone Library

Famously referred to as the smallest library in New South Wales, the Quambone Library's opening hours are:

Monday and Thursday from 4pm to 5pm

Quambone Library is staffed by Council, however, due to limited resourcing, there may be times when the library is closed. Council will endeavour to notify residents via the Coonamble Shire Library Facebook and/or place a sign on the door.

Contact Information for Quambone Library:
Address: Mungie Mungie Street, Quambone NSW 2831
Phone: (02) 6827 1925
Email: coonamble.library@coonambleshire.nsw.gov.au
Facebook: www.facebook.com/CoonambleShireLibrary

Gulargambone Library

Gulargambone Library is managed through the Gulargambone Rural Transaction Centre and is staffed by volunteers.

Gulargambone Library's opening hours are:

Wednesday from 10am to 1pm

Thursday from 10am to 1pm

Friday from 10am to 1pm and 2pm to 5pm

Saturday from 10am to 1pm

Gulargambone Library also offers free wi-fi.